Denzel Curry's "Clout Cobain" Video Is Out of Control
Being a human in 2018 is a fucking weird experience and being an entertainer in this mess is even more bizarre. Culture is moving so fast that most of us don't even have time to catch up and realize how insane and dangerous some things have become, but Denzel Curry just held a mirror up to his world in one of the most entertaining and thought-provoking videos to come out so far this year.
Curry hasn't commented on the video yet himself, but a press release gives a little context: '"Clout Cobain" is an inspirational wake-up call to fellow artists and their fans that this cyclical modern day minstrel show does end lives prematurely and ultimately, its the artists who can break the influence of the industry's ringmasters."
Conceptualized by Curry and Mark Maturah, the Zev Deans-directed video shares the same aesthetics as the cover artwork to his forthcoming album, TA13OO, which will be released in three different acts on July 25, 26, and 27. The album will explore topics including "molestation, the presidential election, fame, hatred, paranoia, revenge, love, the current state of music, and personal tales of his own near death experiences." Thursday night, Curry tweeted, "THIS ALBUM GOING CHANGE THE GAME," and so far he has our attention. Somehow, he got up blogging at 2:00 a.m. for the first time in years. Thanks, Denzel.
Watch the "Clout Cobain" video above and continue for the album artwork and tracklist for TA13OO.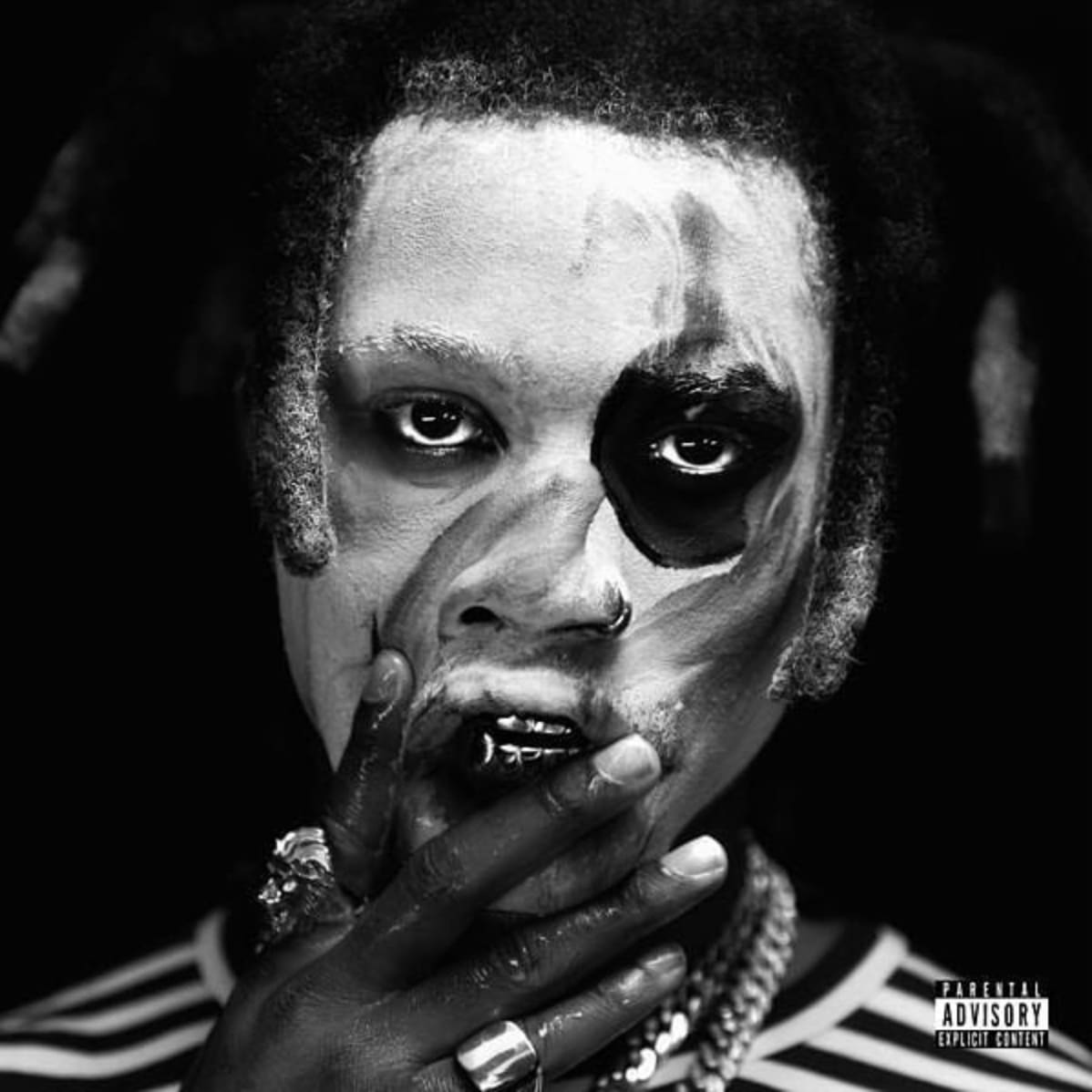 Act I. Light

1. TABOO – TA13OO

2. BLACK BALOONS – 13LACK 13ALLOONZ (feat. GOLDLINK – GOLDL1NK)

3. CASH MANIAC – CAZH MAN1AC (feat. NYYJERIA – NYY JER1A)

4. SUMO – ZUMO
Act II. Gray

5. SUPER SAIYAN SUPERMAN – ZUPER ZA1YAN ZUPERMAN

6. SWITCH IT UP – ZWITCH 1T UP

7. MAD I GOT IT – MAD 1 GOT 1T

8. SIRENS – Z1RENZ (feat. J.I.D – J1D)

9. CLOUT COBAIN – CLOUT CO13A1N
Act III. Dark

10. THE BLACKEST BALLOON – THE 13LACKEZT 13ALLOON

11. PERCS – PERCZ

12. VENGEANCE – VENGEANCE (feat. ZILLAKAMI & JPEGMAFIA – Z1LLAKAMI & JPEGMAF1A)

13. BLACK METAL TERRORIST – 13MT
Article written by Eric Skelton #Complex
Chad Hugo Comes Through With Massive Sample Pack That Features Sounds From N*E*R*D, Neptunes, and More
Over the course of his career, Chad Hugo of the Neptunes and N*E*R*D has been responsible for helping craft a signature sound for some of music's biggest hip-hop and pop acts, including Justin Timberlake, Snoop Dogg, Pharrell, and many more. Now, the producer is releasing a sample pack that includes 150 sounds from some of his most popular work. 
The pack is being released through music creation platform Splice and will allow producers to access the one-of-a-kind sound that has become synonymous with Hugo throughout his multi-decade career.
Earlier this year, Pigeons & Planes spoke with Hugo, who opened up about his legacy in music and maintaining his role as a creator who isn't worried about the spotlight.
"I do feel famous. I'm content with it. I also don't feel famous at the same time. It's good to just make an impact on people's lives when you share the talent. Whatever magnitude is the result," he said.
Hugo also made mention of some his plans going forward as far as music goes. "I don't really have any desire to make music like, 'It's time to break out and be a solo artist!' I make it just to make it," Hugo explained. "It takes a lot of planning. If things happen, then things happen. I want to be a better horn player, and be a better guitar player, and I don't know if I'll ever reach that apex."
Any music producers that need some help cooking up a banger of their own can download the Chad Hugo sample pack after signing up for an account through Splice here.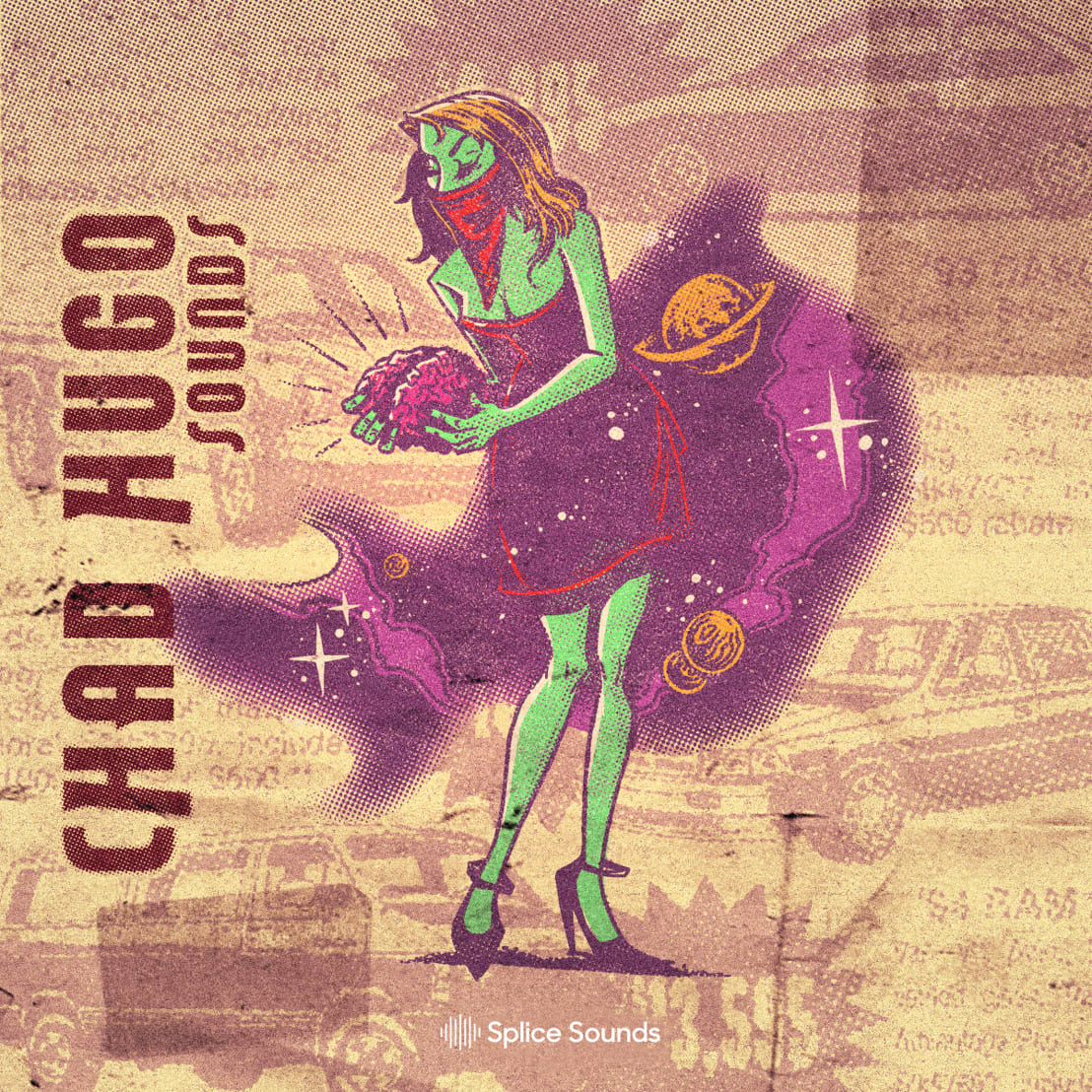 Article written by Mike DeStefano #Complex
Exclusive: Red Bull Music Culture Clash 2018 to Feature Zaytoven, Kranium, and More
On Friday, Aug. 24, Atlanta will once again be the home for the Red Bull Music Culture Clash. The 2017 edition was not only sold-out, but counted everyone from Ludacris to Jermaine Dupri as special guests, and this year, we have a feeling it'll be even bigger, especially with the lineup they have locked down.
As per usual, the Clash will feature four stages, each occupied by a specific crew representing their sound. It'll be a night of diversity in both the squads involved and the sounds they will be bringing. At the end of the event, the 2018 Red Bull Music Culture Clash champion will be crowned.
This year, they have a stellar crop of individuals competing. ATL's own Zaytoven will take the stage to put on for the Zaytown Global team. Hot off of that BEASTMODE 2 release with Future, Zay's sure to have some more heat on deck. DJ Mija will be linking up with Kenny Beats, who many might remember by his EDM alias of LOUDPVCK, with the pair representing the Don't Think crew. Jamaica's own Kranium (who recently dropped his own rendition of Ella Mai's "Boo'd Up") will be repping with the Frequent Flyers, who you can expect to bring that pure reggae and dancehall vibe. The D.C.-bred Dominican rap sensation known as Fuego rounds out the crews on hand, bringing his Fireboy Sound to the venue.
The event will be hosted by Angela Yee of Power 105.1's The Breakfast Club, and is sure to be one of the illest events to go down this year. Past years have found a host of special guests joining the various stages, as well as playful shots being taken between the crews. It is a clash, so come prepared!
You can cop tickets to the Red Bull Music Culture Clash via their website.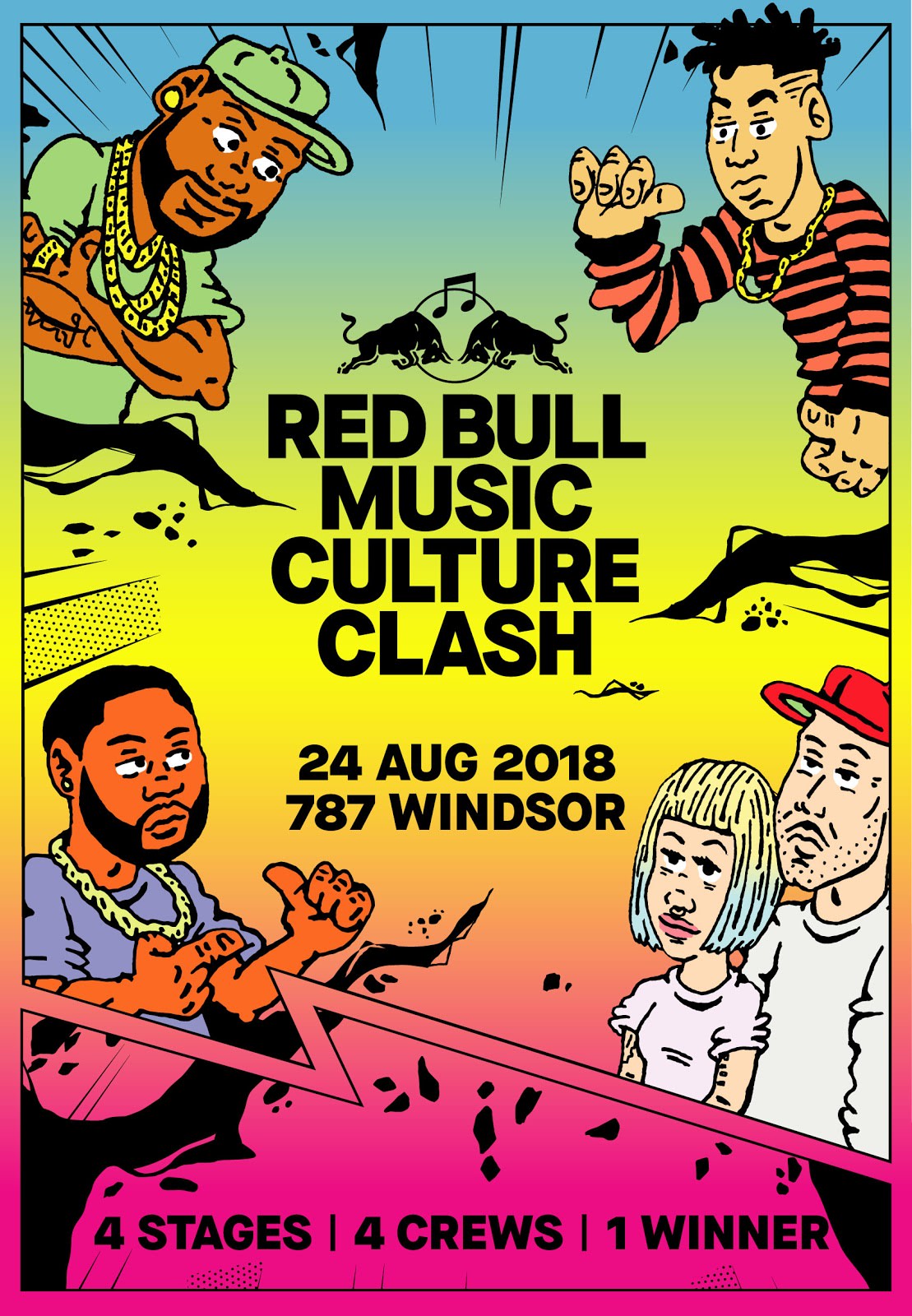 Article written by khal #Complex
Kali Uchis Puts Her Spin on Classic Kanye West Song "Paranoid"
In a move of startling synchronicity, as I've been in the middle of a deep-dive revisit of Kanye West's 808s & Heartbreak era since yesterday morning, Kali Uchis has unveiled her take on the classic cut "Paranoid."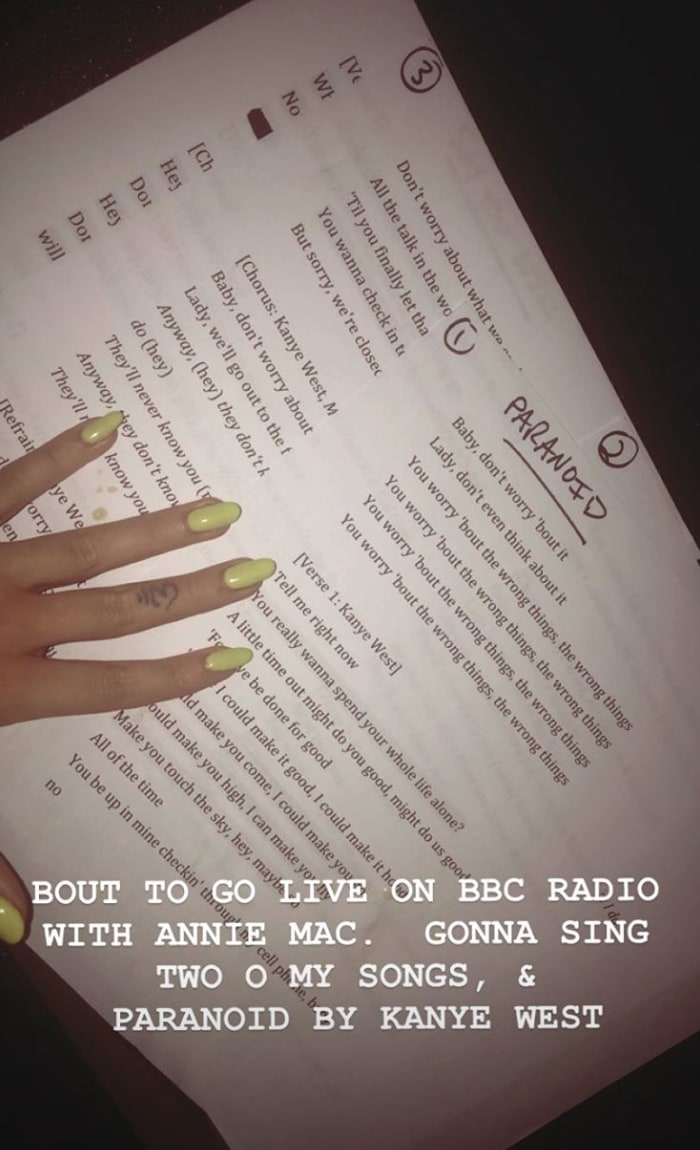 The reworking of the groundbreaking 2009 single was tucked into Uchis' appearance Tuesday on Annie Mac's BBC Radio 1 show. "I think I just love this song," Uchis told Mac around the 16:35 mark in the stream below, as first spotted by Fader. "I mean, I love old Kanye. This album, 808s & Heartbreak, was very inspirational to me and so I thought it would make sense to cover his song . . . I love all of his albums but I really love this album in particular. I'm a huge Kid Cudi fan too and so I really just love all of the musicality of it and I loved how he was, like, trying to do something different with his voice and everything in it. And the heart in it, I thought it was really special."
Uchis announced the Isolation-supporting In Your Dreams tour last month. The fall trek kicks off Sept. 13 in Seattle and comes to a close in Minneapolis Oct. 23, though additional dates are expected to be announced. Cuco and Gabriel Garzón-Montano will be providing support.
As for why I've been deep in 808s remembrance recently, let's just say I know my destination but I'm just not there.
Article written by Trace William Cowen #Complex