Denzel Curry's "Clout Cobain" Video Is Out of Control
Being a human in 2018 is a fucking weird experience and being an entertainer in this mess is even more bizarre. Culture is moving so fast that most of us don't even have time to catch up and realize how insane and dangerous some things have become, but Denzel Curry just held a mirror up to his world in one of the most entertaining and thought-provoking videos to come out so far this year.
Curry hasn't commented on the video yet himself, but a press release gives a little context: '"Clout Cobain" is an inspirational wake-up call to fellow artists and their fans that this cyclical modern day minstrel show does end lives prematurely and ultimately, its the artists who can break the influence of the industry's ringmasters."
Conceptualized by Curry and Mark Maturah, the Zev Deans-directed video shares the same aesthetics as the cover artwork to his forthcoming album, TA13OO, which will be released in three different acts on July 25, 26, and 27. The album will explore topics including "molestation, the presidential election, fame, hatred, paranoia, revenge, love, the current state of music, and personal tales of his own near death experiences." Thursday night, Curry tweeted, "THIS ALBUM GOING CHANGE THE GAME," and so far he has our attention. Somehow, he got up blogging at 2:00 a.m. for the first time in years. Thanks, Denzel.
Watch the "Clout Cobain" video above and continue for the album artwork and tracklist for TA13OO.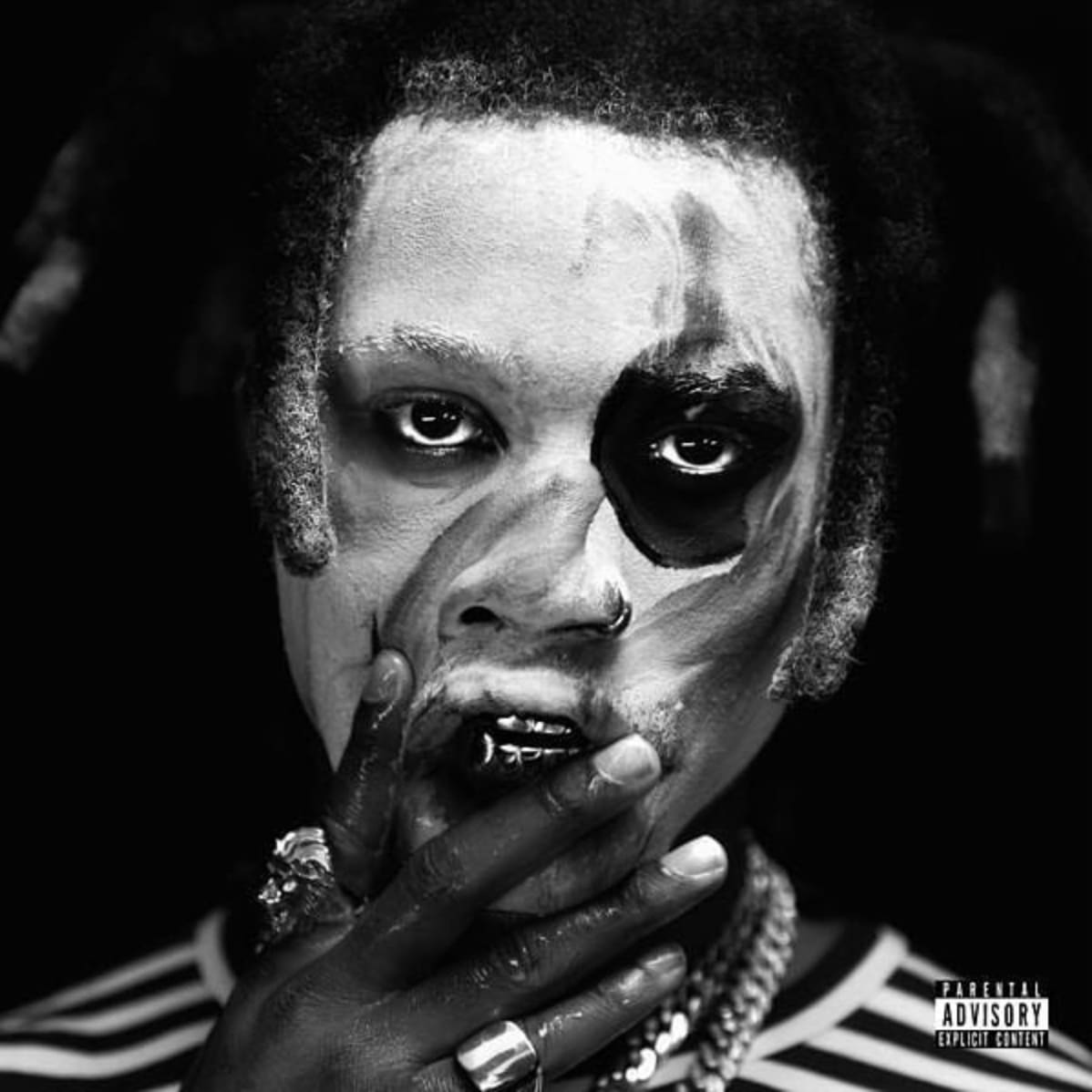 Act I. Light

1. TABOO – TA13OO

2. BLACK BALOONS – 13LACK 13ALLOONZ (feat. GOLDLINK – GOLDL1NK)

3. CASH MANIAC – CAZH MAN1AC (feat. NYYJERIA – NYY JER1A)

4. SUMO – ZUMO
Act II. Gray

5. SUPER SAIYAN SUPERMAN – ZUPER ZA1YAN ZUPERMAN

6. SWITCH IT UP – ZWITCH 1T UP

7. MAD I GOT IT – MAD 1 GOT 1T

8. SIRENS – Z1RENZ (feat. J.I.D – J1D)

9. CLOUT COBAIN – CLOUT CO13A1N
Act III. Dark

10. THE BLACKEST BALLOON – THE 13LACKEZT 13ALLOON

11. PERCS – PERCZ

12. VENGEANCE – VENGEANCE (feat. ZILLAKAMI & JPEGMAFIA – Z1LLAKAMI & JPEGMAF1A)

13. BLACK METAL TERRORIST – 13MT
Article written by Eric Skelton #Complex
BROCKHAMPTON Returns with 'iridescence' Album
Since the release of their last album, Saturation III, BROCKHAMPTON have gone through quite a few ups and downs. Getting through the turmoil and three previous titles, the self-proclaimed boy band has returned with their 4th album, iridescence.
Originally titled Team Effort, BROCK began the campaign by releasing four songs: "TONYA," "1999 Wildfire," "1998 Truman" and "1997 Diana," within a month.
Only one ("TONYA") of the four singles appears on the album, though, joining another 14 tracks in the latest chapter of the group's career.
Press play on iridescence below and be sure to add the album on your preferred streaming platform.
BROCKHAMPTON Returns with 'iridescence' Album was last modified: September 21st, 2018 by Wongo
Article written by Wongo #2DopeBoyz
MGK Drops 'Binge' EP | 2DOPEBOYZ
In case you've been living under a rock, Machine Gun Kelly has been in a back-and-forth battle with Eminem over … well, who knows (or cares) at this point.
Considering this is the most attention he's received throughout his entire career, the Cleveland native decided to take advantage by releasing a new EP called Binge.
Locked in at nine songs, including his "Rap Devil" diss towards Em, the project holds a lone feature from 24hrs while MGK handles the rest himself.
Check it out below and, if you like what you hear, add the EP on your preferred streaming platform.
MGK also recently sat down with The Breakfast Club to discuss the Em situation, his beef with G-Eazy, Diddy, and playing Tommy Lee in an upcoming biopic.
MGK Drops 'Binge' EP was last modified: September 21st, 2018 by Shake
Article written by Shake #2DopeBoyz
Moneybagg Yo – "OKAY" f. Future
After a pretty serious mixtape run (including a couple Heartless tapes and a few Federal projects), Moneybagg Yo is finally ready to release his debut album, Reset.
Dropping November 2nd, the Memphis native kicks off the campaign with the project's lead single, "OKAY" with Future.
Check out the 808 Mafia-laced cut below.
Moneybagg Yo – "OKAY" f. Future was last modified: September 21st, 2018 by Shake
Article written by Shake #2DopeBoyz