Kali Uchis Puts Her Spin on Classic Kanye West Song "Paranoid"
In a move of startling synchronicity, as I've been in the middle of a deep-dive revisit of Kanye West's 808s & Heartbreak era since yesterday morning, Kali Uchis has unveiled her take on the classic cut "Paranoid."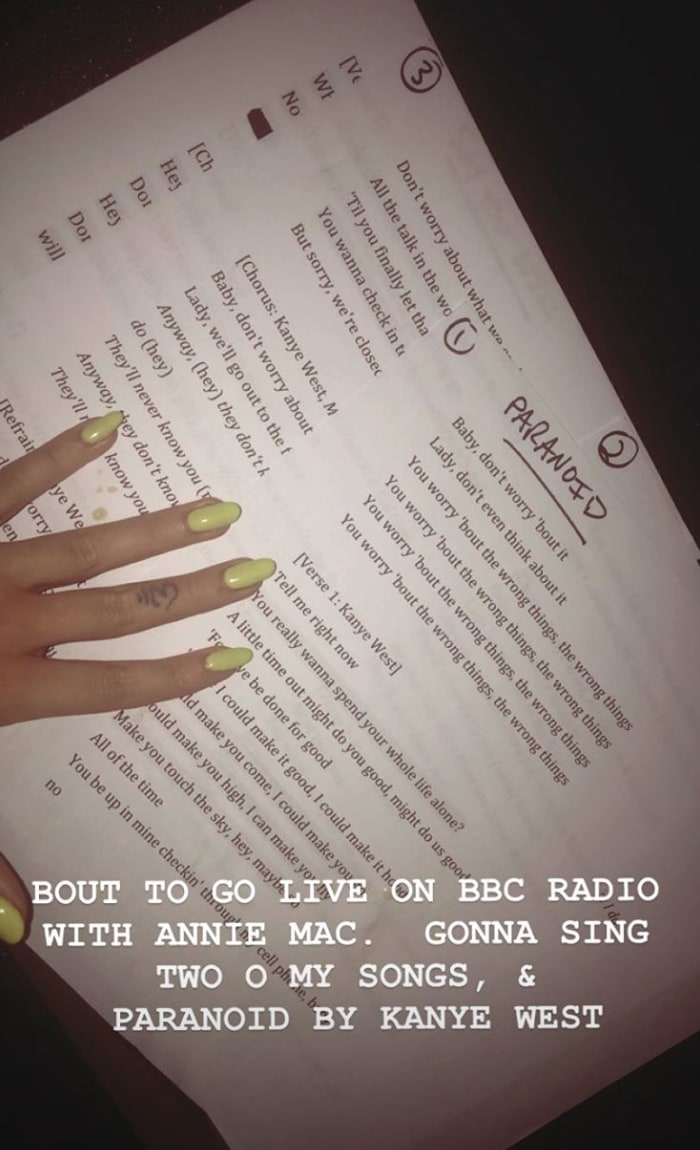 The reworking of the groundbreaking 2009 single was tucked into Uchis' appearance Tuesday on Annie Mac's BBC Radio 1 show. "I think I just love this song," Uchis told Mac around the 16:35 mark in the stream below, as first spotted by Fader. "I mean, I love old Kanye. This album, 808s & Heartbreak, was very inspirational to me and so I thought it would make sense to cover his song . . . I love all of his albums but I really love this album in particular. I'm a huge Kid Cudi fan too and so I really just love all of the musicality of it and I loved how he was, like, trying to do something different with his voice and everything in it. And the heart in it, I thought it was really special."
Uchis announced the Isolation-supporting In Your Dreams tour last month. The fall trek kicks off Sept. 13 in Seattle and comes to a close in Minneapolis Oct. 23, though additional dates are expected to be announced. Cuco and Gabriel Garzón-Montano will be providing support.
As for why I've been deep in 808s remembrance recently, let's just say I know my destination but I'm just not there.
Article written by Trace William Cowen #Complex
BROCKHAMPTON Returns with 'iridescence' Album
Since the release of their last album, Saturation III, BROCKHAMPTON have gone through quite a few ups and downs. Getting through the turmoil and three previous titles, the self-proclaimed boy band has returned with their 4th album, iridescence.
Originally titled Team Effort, BROCK began the campaign by releasing four songs: "TONYA," "1999 Wildfire," "1998 Truman" and "1997 Diana," within a month.
Only one ("TONYA") of the four singles appears on the album, though, joining another 14 tracks in the latest chapter of the group's career.
Press play on iridescence below and be sure to add the album on your preferred streaming platform.
BROCKHAMPTON Returns with 'iridescence' Album was last modified: September 21st, 2018 by Wongo
Article written by Wongo #2DopeBoyz
MGK Drops 'Binge' EP | 2DOPEBOYZ
In case you've been living under a rock, Machine Gun Kelly has been in a back-and-forth battle with Eminem over … well, who knows (or cares) at this point.
Considering this is the most attention he's received throughout his entire career, the Cleveland native decided to take advantage by releasing a new EP called Binge.
Locked in at nine songs, including his "Rap Devil" diss towards Em, the project holds a lone feature from 24hrs while MGK handles the rest himself.
Check it out below and, if you like what you hear, add the EP on your preferred streaming platform.
MGK also recently sat down with The Breakfast Club to discuss the Em situation, his beef with G-Eazy, Diddy, and playing Tommy Lee in an upcoming biopic.
MGK Drops 'Binge' EP was last modified: September 21st, 2018 by Shake
Article written by Shake #2DopeBoyz
Moneybagg Yo – "OKAY" f. Future
After a pretty serious mixtape run (including a couple Heartless tapes and a few Federal projects), Moneybagg Yo is finally ready to release his debut album, Reset.
Dropping November 2nd, the Memphis native kicks off the campaign with the project's lead single, "OKAY" with Future.
Check out the 808 Mafia-laced cut below.
Moneybagg Yo – "OKAY" f. Future was last modified: September 21st, 2018 by Shake
Article written by Shake #2DopeBoyz