Kali Uchis Puts Her Spin on Classic Kanye West Song "Paranoid"
In a move of startling synchronicity, as I've been in the middle of a deep-dive revisit of Kanye West's 808s & Heartbreak era since yesterday morning, Kali Uchis has unveiled her take on the classic cut "Paranoid."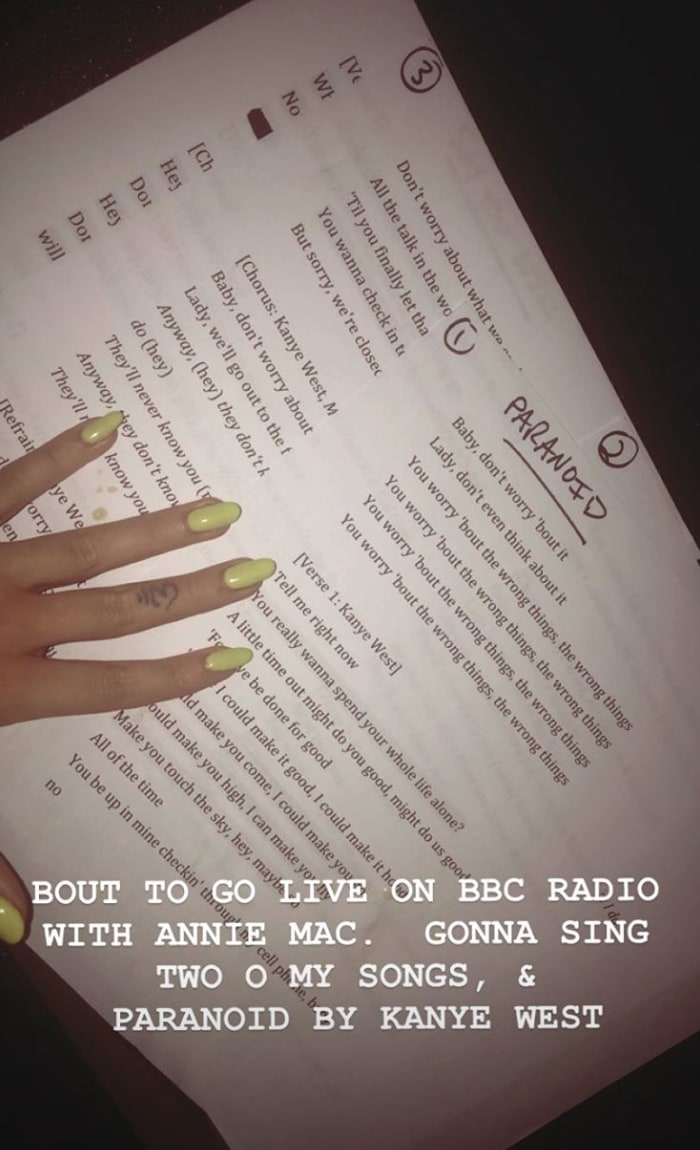 The reworking of the groundbreaking 2009 single was tucked into Uchis' appearance Tuesday on Annie Mac's BBC Radio 1 show. "I think I just love this song," Uchis told Mac around the 16:35 mark in the stream below, as first spotted by Fader. "I mean, I love old Kanye. This album, 808s & Heartbreak, was very inspirational to me and so I thought it would make sense to cover his song . . . I love all of his albums but I really love this album in particular. I'm a huge Kid Cudi fan too and so I really just love all of the musicality of it and I loved how he was, like, trying to do something different with his voice and everything in it. And the heart in it, I thought it was really special."
Uchis announced the Isolation-supporting In Your Dreams tour last month. The fall trek kicks off Sept. 13 in Seattle and comes to a close in Minneapolis Oct. 23, though additional dates are expected to be announced. Cuco and Gabriel Garzón-Montano will be providing support.
As for why I've been deep in 808s remembrance recently, let's just say I know my destination but I'm just not there.
Article written by Trace William Cowen #Complex
Dave Chappelle, Punch & Terrace Martin Join Anderson .Paak On .Paak House Radio ep. 3
Although his anticipated new album arrives in a matter of days, Anderson .Paak is showing no nerves at all. At least, publicly.
Breezy hit the Apple Music airwaves once again for the third episode of .Paak House Radio, and he invited and called some of his friend throughout: Terrace Martin, TDE's Punch, and even Dave Chappelle.
While Chappelle was the subject of a prank call, .Paak spoke to Terrace and Punch about their musical creative process. Listen to the highlights below.
Dave Chappelle, Punch & Terrace Martin Join Anderson .Paak On .Paak House Radio ep. 3 was last modified: November 12th, 2018 by Meka
Article written by Meka #2DopeBoyz
Lily Rayne – "I Might" (Video)
Lily Rayne took her first step into the limelight with her 2017 project Rhode Girl. Since its release, Rayne has been hard at work, promoting her music and even inking a deal with Empire Records.
With a new project in the works, Rayne let her new single, "I Might," fly back in May and six months later she's graced us with visuals for the song. Directed by Socially Awkward, her latest visual is laced with trippy effects as she turns up with with a few ladies.
Hit play on the video below.
Lily Rayne – "I Might" (Video) was last modified: November 13th, 2018 by Wongo
Article written by Wongo #2DopeBoyz
ODIE – "No Signs" | 2DOPEBOYZ
Born in Toronto to Nigerian parents, ODIE is seeing a huge boost in his career thanks to the increasing popularity of his debut project Analogue. The project, released back in April stands as one of my favorites of the year, with "Bliss City," "North Face" & "Story" standing as my favorites.
In an interview with Pigeons and Planes early this year ODIE alluded to some of the artists that influenced the music he creates now:
There's this Fela Kuti song, "Shakara." My dad used to play that a lot. And "Sweet Mother." Every Mothers Day. Every Nigerian knows that song.
He's not lying either, to receive your Nigerian certification card "Sweet Mother" is one of the tracks you just have to know.
In addition to these tracks he also pointed named Michael Jackson, Usher's Confessions, Coldplay's "Talk" & Dan Black & Kid Cudi's "Symphonies!" as music that was influential to him in his youth.
Making his return seven months after the release of Analogue, ODIE dropped off "No Signs." The song is set to appear on the LVRN-produced soundtrack of the FOX documentary They Fight which is produced by Common. The film portrays the real-life story of two young boxers, Ragahleak "Peanut" Bartee and Quincey Williams, in Washington D.C.'s Lyfe Style Boxing program.
While the film debuted on FOX last night (Nov. 11), the entire soundtrack has yet to be released, but it is set to feature original songs by 6LACK, Boogie, Octavian & more.
With all that being said, please welcome ODIE to the DopeHouse and hit play on "No Signs" and Analogue below.
ODIE – "No Signs" was last modified: November 12th, 2018 by Wongo
Article written by Wongo #2DopeBoyz