Here's Where You Can Buy the Vuarnet Tee Kanye West Wore
Over the weekend, Kanye West was spotted in Malibu sporting a vintage Vuarnet t-shirt, and thankfully we now know where we can get ahold of it for ourselves. The French eyewear brand was founded in 1957 before making its international debut during the 1960 Olympics, where it instantly became a hit with skiers. Now the brand is making a bit of a comeback in the States, and Kanye is certainly helping with that.
Vuarnet have just debuted a Summer '18 collection online, and it'll also be available at the brand's first ever US store opening this weekend in New York City. Among the collection is a number of hoodies and new t-shirts, as well as a tote bag, swim trunks, and cap. The collection includes a replica of the vintage-style t-shirt Kanye was spotted wearing, although in a different, more neutral colorway.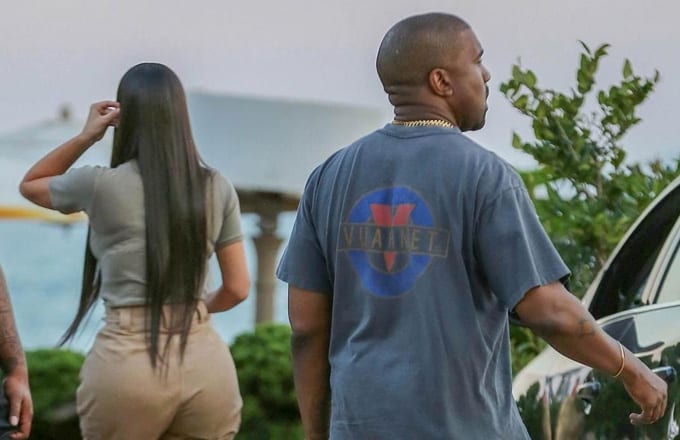 The opening of Vuarnet's US flagship will take place this Saturday, July 14, on 39 Spring Street. The boutique will offer the brand's classic eyewear, their summer '18 collection, and more. 
Article written by Joe Price #Complex
MGK Drops 'Binge' EP | 2DOPEBOYZ
In case you've been living under a rock, Machine Gun Kelly has been in a back-and-forth battle with Eminem over … well, who knows (or cares) at this point.
Considering this is the most attention he's received throughout his entire career, the Cleveland native decided to take advantage by releasing a new EP called Binge.
Locked in at nine songs, including his "Rap Devil" diss towards Em, the project holds a lone feature from 24hrs while MGK handles the rest himself.
Check it out below and, if you like what you hear, add the EP on your preferred streaming platform.
MGK also recently sat down with The Breakfast Club to discuss the Em situation, his beef with G-Eazy, Diddy, and playing Tommy Lee in an upcoming biopic.
MGK Drops 'Binge' EP was last modified: September 21st, 2018 by Shake
Article written by Shake #2DopeBoyz
Moneybagg Yo – "OKAY" f. Future
After a pretty serious mixtape run (including a couple Heartless tapes and a few Federal projects), Moneybagg Yo is finally ready to release his debut album, Reset.
Dropping November 2nd, the Memphis native kicks off the campaign with the project's lead single, "OKAY" with Future.
Check out the 808 Mafia-laced cut below.
Moneybagg Yo – "OKAY" f. Future was last modified: September 21st, 2018 by Shake
Article written by Shake #2DopeBoyz
Young Dolph Drops 'Role Model' Album
It's Dolph!
After kicking off the year with his Ni**as Get Shot Everyday EP, Young Dolph is back with his first full-length release of the year, Role Model.
Locked in at 14 tracks—including "By Mistake" and "Major" with Key Glock—Role Model comes equipped with features from Snoop Dogg, Offset, and Kash Doll.
Check it out below and be sure to add the album on your preferred streaming platform.
Young Dolph Drops 'Role Model' Album was last modified: September 21st, 2018 by Shake
Article written by Shake #2DopeBoyz